In recognition of Apogee's dedication toward driving sustainability, we are delighted to announce that Apogee has been named as an HP Amplify Impact Catalyst 5-Star Partner.
The 5-Star award is the highest accolade that HP offer, recognising our commitment to empowering our people and driving lasting change for our Planet, People, and Community – ultimately leading the way toward a more sustainable future.
The Amplify Impact program aims to empower HP partners like Apogee to drive lasting positive change, and maximise business opportunities.
HP have been committed to driving sustainability for many years; and Apogee's 5-Star Catalyst badge demonstrates our commitment to sustainable business practices to clients and employees alike. From investing in our Equality, Diversity, & Inclusion strategy, to enabling our customers to enter a low-carbon circular economy through PrintReleaf and our selection of refurbished devices; we continually strive to achieve a more sustainable future.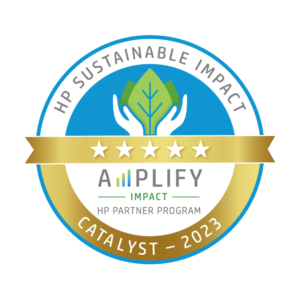 As a 5-Star Partner, we will continue to promote a culture of equity, diversity, inclusivity, wellbeing, and positive employee engagement – all while contributing to advancing climate action, human rights, and digital equity.

Recently, Apogee has supported Kent-based charity Communigrow local to Apogee HQ, volunteered at Green Synergy in Lincolnshire to support the local community, and removed 49kg of waste from the UK's beaches in our most recent Beach Clean-Up. 
For more information, please contact us by using the form below.